SOCIÉTÉ ASTRONOMIQUE DE FRANCE
3, rue Beethoven – 75016 Paris
Tél. : 01 42 24 13 74
                               saf-astronomie.fr      secretariat@saf-astronomie.fr
PRESS RELEASE
AWARD CEREMONY FOR THE JANSSEN PRIZE
Ewine van Dishoeck winner of the Janssen Prize 2020, astronomer at the Leiden Observatory in the Netherlands and current President of the International Astronomical Union
DR. EWINE F. VAN DISHOECK IS AWARDED THE 2020 JULES JANSSEN PRIZE
2020 
Paris, January 5th, 2021 — The Société astronomique de France (the French Astronomical Society – SAF) will award its prestigious international astronomy prize – the Jules Janssen Prize – to Dr. Ewine F. van Dishoeck of the Netherlands for her outstanding scientific achievements. The ceremony will take place on 8 January 2021 starting at 6 p.m. (it will be held on-line due to the present pandemic). Dr. Thierry Montmerle of the Paris-based Institute of Astrophysics (IAP), and a former Secretary General of the International Astronomical Union (IAU), will present the medal to Dr. van Dishoeck.
The famous astronomer Jules Janssen (1824-1907) served as SAF President between 1895 and 1897. During his tenure, he created a number of awards including the Janssen Prize, which has been given annually by SAF since 1897. This prize is awarded alternately to a French astronomer and a foreign astronomer for their outstanding scientific work, as well as for their promotion of astronomy to the public. Previous recipients include, among others, Percival Lowell (1904), Max Wolf (1912), Robert Esnault-Pelterie (1930), Albert Einstein (1931), André Danjon (1950), Jean-Claude Pecker (1967), Evry Schatzman (1973), Audouin Dollfus (1993), Michel Mayor (1998), Pierre Lena (1999), Reinhard Genzel (2000), and Françoise Combes (2017).
Ewine F. van Dishoeck was born in Leiden, Netherlands in 1955. She is Professor of Molecular Astrophysics at Leiden University, and President of the IAU for the 2018-2021 triennium.
After completing her PhD at Leiden in 1984, Dr. van Dishoeck held positions in the United States (Harvard, Princeton and Caltech Universities) before returning to Leiden in 1990. Her research is pioneering in observational, theoretical, and laboratory astrochemistry, shedding light on the chemistry of interstellar clouds and the formation of stars and planets. She was also strongly involved in the planning and the use of new observing facilities such as Herschel and ALMA.
Dr. van Dishoeck was awarded several prizes, amongst which were the Spinoza Prize in 2000, the Albert Einstein World Award of Science in 2015 and the Kavli Prize in 2018. She is currently the scientific Director of the Netherlands Research School for Astronomy (NOVA), a position she has held since 2007. In 2018, she was appointed IAU President.
Founded by Camille Flammarion, the Société astronomique de France celebrated its 130th anniversary in 2017. Bringing together professional and amateur astronomers since its foundation, SAF holds a unique place in popularising astronomy and space sciences.
Full list of recipients of the Janssen Prize here.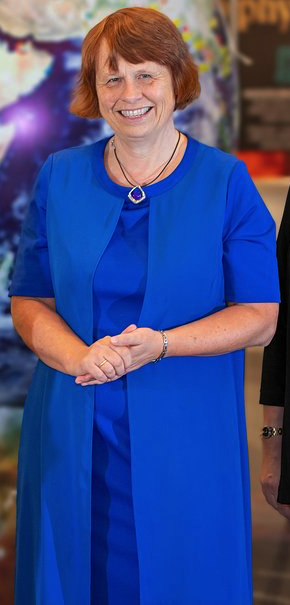 © DR
FONDÉE EN 1887. RECONNUE D'UTILITÉ PUBLIQUE EN 1897. AGRÉÉE ASSOCIATION NATIONALE DE JEUNESSE ET D'ÉDUCATION POPULAIRE.